I was just wondering what you are supposed to do for growth in 2015?
Latest digital marketing trends are changing the game completely for a new breed of entrepreneurs. They are hungry for growth, and playing with the data and automation 10 times faster than their well-settled counterparts.
Yes! I am talking about all those big corporations and small-medium enterprises which are not able to cope up with the speed of digital change.
And actually what are those?
Before you even start thinking about growth and those number of sales, you will have to be familiar with all these digital marketing trends and which to concentrate on.
You will find hundreds of ways people do things differently nowadays. It is also obvious that you can not focus on each and every aspect of digital marketing trends.
But what you can do is pick up the ones that you and your marketing team will find instantly helpful to better optimize your on-going business activities.
Don't worry!
I am going to help you out with the most popular digital marketing trends you should follow from the very next day.
7 Digital marketing trends to follow for growth in 2015-
Content Marketing
Do you notice that SEO has completely changed?
Now, it is not just writing title tags, meta tags and optimizing your website content and leave it for months, and just concentrating on submitting links to hundreds of directories.
Since 2013 onward, SEO is all about content marketing.
Actually, Directory submission is dead.
You know how?
The more keywords you target, there are better chances your website will rank in search engines. It will happen only when you write 2-3 new articles every week.
That way, not only will you be providing new and fresh content to Google, but building thought leadership too in your niche.
For last couple of years, Google gives more importance to Authority and popularity. If your domain is popular, you will see more traffic to your website.
So, when you share content on all the social media platforms such as Facebook, Twitter, Pinterest and Linkedin, it helps increasing popularity of your content.
Thus, there are chances your keywords will start ranking far better in search engines.
For example- You just look at all the big companies such as Salesforce, Unbounce, Bufferapp etc, you will find hundreds of fresh articles published every year. Not only does it help them building trust and loyalty, but generating quality leads in a long term period.
Content marketing is one of the hot digital trends you might be following to grow your business.
See the below screenshot- That article is shared today only, and it's has already got more than 600 shares in couple of hours. It is content marketing. Try to find what type of content will go viral in your niche.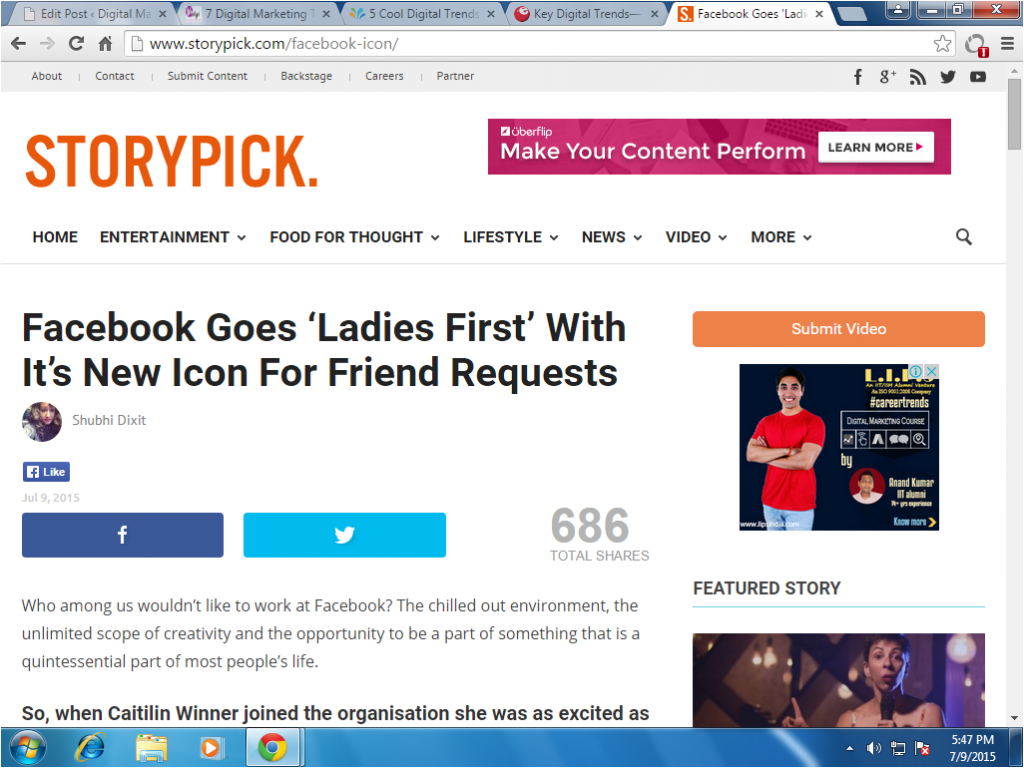 Paid advertising
"SEO is dead". This is the buzzword in the industry. But, i would rather say that SEO has become a part of paid advertising.
If you try to work on SEO the traditional way, it will take more than a year to rank in any search engine. And you can not even be sure about it.
Now, SEO is a part of paid advertising.
As i mentioned before, you create awesome content, and then use Facebook and Twitter's sponsored article feature to promote and get lots of shares.
When Google finds that your content gets good number of  social shares, it takes that as a measurement of popularity. Now, according to Google, your content more is popular than your competitors.
See the below screenshots of companies promoting their content and building trust and loyalty.

Here, i don't want to restrict paid advertising to only content marketing. If you will see all digital marketing trends, paid adverting has got a broad perspective. Now, playing with PR and cross promotion is all about paid advertising.
Best example could be Narendra Modi's election campaign. If we are to believe in media, they spent more than 650 crore only on marketing and building Narenda Modi a personal brand.
And latest is housing.com. They spent around 120 crore on "Look up" campaigns to grab the eye balls and increase traffic and loyalty.
Paid media is everywhere.
Playing with the data for growth
Why i emphasize on data is because of growing competition.
Want to learn something?
You just type in Google to find hundreds of articles to read about.
If your company website has a blog doing the same thing with a very generic way. It is going to be very hard for you to get traffic.
What you need to do is play with data.
You just log in to your Google Analytics and Adwords account and see what type of content and keywords bring more traffic and when.
When you are able to analyse the data. You will start getting ideas what type of content will work for your business growth.
For example– YouTube channel, The Viral Fever has got into a very interesting niche. They found out that young generation is very much bored with all that Saas-Bahu drama, and want something refreshing.
So, team behind TVF, came up with their YouTube serials. They are big hit on YouTube. What interesting is that their YouTube channel has got more than 1 million subscribers in just 1 year of time.
Watch this episode to completely understand why playing with data tops all the digital marketing trends.
That is why data is important in marketing. If you are able to figure out what will work, you will instantly see thousands of people flocking to your website.
Other examples are Housing.com and Myntra.
If you will go through latest news, you will learn that Housing.com has already bought a company in data science. So, they can better people's search and buying needs
On the other, Myntra has gone app only. Data says that there website gets more than 80 percent traffic only from mobile.

Mobile adaptation
Are you still obsessed with your desktop website?
If it is so, you are losing on a big opportunity. Yes! people are on mobile. And more than 50% traffic comes only from mobile.
May be that is the big reason why Myntra and Flipkart want to go App only. They are ready to ditch their Desktop website.
Here, i am not focused to launch android/iOS app. I want you to focus on having a responsive design. Make sure that your every visitors gets awesome experience.
Or
you will lose on conversions.
Take a look at big websites such as Yourstory, Mashable, techcrunch to see what amazing experience they provide to each and every visitor.

Personalization and automation
I can better explain it in terms of email marketing and content distribution. You would have already observed a new trend how bloggers are sending emails to each and every subscriber. You will hardly find those boring email subject lines talking about their business and offerings.
Instead, they have taken email marketing at a very personal level. Rather than simply writing "Hi", they mention your name and greet you.
What more interesting is that they send you emails when you want to read them.
Yes! I want to get deeper into email automation. Whenever you visit their website, they get to know which pages (products and services) you are interested in.
As soon as you leave their website, you end up getting email from them related to your browsing/search history.
Whenever you are free, you just visit Flipkart, and see what comes to your inbox in next couple of minutes.
You will understand what marketing automation is.
Definitely one of the most important digital marketing trends to make most out of.

Website redesign for conversion optimization
With this point, i want to emphasize on the need of CRO (Conversion Rate Optimization).
It feels really good to flaunt a beautiful website. You would have played with colors and content that will attract people. But what about when they are not converting.
If there is no conversion, there is no need to have a digital presence. Your content should be written in a way that makes people sign up or subscribe.
There is even a debate too why ugly websites convert better than beautiful ones. You can read it over here.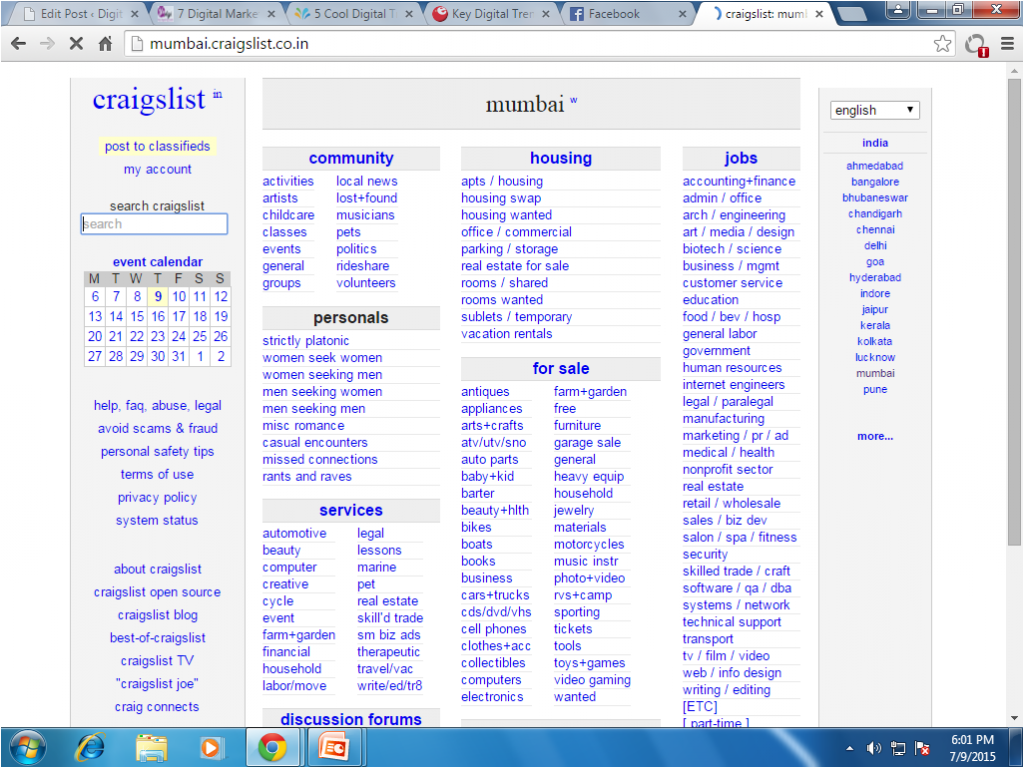 On the one hand, a beautiful website makes people stay longer on your website. You will see decreased bounce rate and increased session time. Thus, helping you in improving seo and generating more traffic. But, on the other hand, it distracts people from signing up. That is where conversion on your website starts decreasing.
This above scenario proves why ugly websites convert better than beautiful ones.
So, as a marketer, if you can find a perfect balance between being ugly and beautiful, you can surely win the game of conversions.
For example– Craglist and Wikipedia both give an impression that they are still in last decade when it comes designing. You will hardly find any color other than black and white. But, when you will look at their traffic numbers, you will feel surprised.

Growth hacking
From business and growth perspective, it is one of the hottest digital marketing trends. After all, you don't want to grow like companies in 90's.
You have to find a gap in current digital space and apply the combination of marketing and technology.
I can better explain it with the following example.
Have you seen the growth of Ola cabs? They have beautifully worked on it.
At first, you get free rides after installing their app. And then, they work on referral marketing. They entice you to share your ride with your social media friends and get discount on your next ride.
You just do it for once, and they are going to get 15-20 more people installing their app, helping it become a cascading effect on social web.
Overall, you don't know which trick will work. You just need to keep on trying.
These are some digital marketing trends to grow in 2015.