Generally, whenever and wherever the word "design" comes, the first thing which comes to our mind is about "creativity". No doubt that designing a website involves lot of creativity on part of the designers and it is important that website should be attractive and user convincing. But imagine a plight of an artist, who makes very amazing art pieces, unfortunately very few people got to see his art. This happens and has happened with many worldwide renowned artists whose art were applauded after their death.
Can we afford this for our business website? Answer is obviously NO! Reason is unless and until our website is not visible to maximum number of users how can we get the business?
On one hand we need to create a stunning website and on the other hand we need it to catch maximum users' attention. For this very purpose SEO (Search Engine Optimization) has been evolved. It is not only technology or science or engineering, whatever said, it is more of an art to manage creativity on one side and digital marketing on other side.
In today's world where technology is fast moving ahead and increased internet usage, Search Engines play a crucial role of bringing your website in search page or SERP (Search Engine Result Page), whenever the user types in the keywords relevant to your business. So the website design has to be SEO website design- meaning it has to be designed taking into all considerations required to place you in that SERP of search engines.
Search engines are least interested in your colour or layout, what they check is structure of your site and keywords. For an e.g.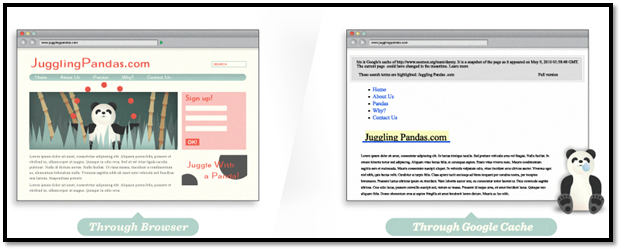 Can you see the difference? Difference is visible clearly.
So we can know for sure that Keywords fuels the search engines. Just like to find a meaning from a dictionary, we search by word. Keywords and Search Engines exactly in same manner as Dictionary and words. To make user reach to your website, your websites should have those keywords on basis of which the search engines indexes. For e.g. a search is based on "ecommerce", then make sure that content which is scanned by search engines has the word "ecommerce". But that does not mean, you have to simply place or stuff the website with keywords. They have to be rightly placed. You content has to be based on those keywords otherwise it frustrates the user. Mostly the keywords are used in titles, metadata and text.
Create a list of Keywords
Precise keywords and broad term keywords should be identified
Finalise your keyword list
Input those keywords in Google AdWords research tool
Rightly place those keywords in the website content in right amount.
Best Places:
Title Tag
Near the top of the page.
In the content of the page
In the alt attribute of an image on the page.
URL.
Meta description tag
It is important to remember that keywords which are in our list should be matched on our website and most importantly on our landing page.
Images should be thoughtfully used with the content.Overuse of images as seen in the above picture, does not help much. Also the size and location of the image has to be proper.
Further, it is not only enough that we are listed in the SERPs but when the user visits our website, he should not get perplexed or find it chaotic, overloaded with information which compels him to leave the site without taking any decision. If that happens, your purpose remains unmet.
So the Site navigationhas to be search engine and user friendly. It simply means that the structure of site should be such that a search engine and user can follow. Too many main pages and sub pages should be avoided as it is confusing and time consuming to go into each pages deep inside the structure and search for a keyword.
SEO ad websiteare closely linked as search engines highly sensitive to the changes you make, for an e.g. you made some changes and moved prominent links to less prominent place in the website, your ranking is bound to get affected.
Having a rich & relevant content is important but it is not the only thing in the requirement bucket for optimization. But that content has to be placed in a perfect hierarchy and on easily navigated pages.
Some other aspects are:
Add Social Media Buttons: They provide cross references. Most the sites who are in the top of SERP have Facebook Fan Page.
Have a Site Map: Sitemaps are details of which all pages are there on your site and where. By sitemaps, search engines can know about various webpages on the website which otherwise can be overlooked.
Responsive Web design: This highly recommended in current scenario with various kinds of smart phones and digital devices being used by huge chunk of people. There are advantages both for the users as well as businesses. For users, what matters the most is the experience and flexibility and for businesses what matters is the accessibility of the website from maximum devices anywhere and anytime. Responsive web design will ask for SEO techniques accordingly. It is important to understand what a user searches and can see on the various digital devices and how search engines work to implement that.
Conclusion is a Website Design is a combination of many parameters. It combines creativity, user experience, SEO techniques, marketing strategy and most importantly Business Goals. Understanding all these parameters will make a PERFECT website with a 360 Degree approach.