Most of us know what content is… There is content on the website, content on social media sites, there is content in emails, there is content in videos, audios & podcasts, there is content on blog & articles, there is content in webinars, and there is whole long list of the forms of content…. We take lot of pains to develop these content right from to decide where we need to post those content, what kind of the content to be posted, what relevant & interesting contents to be prepared keeping in mind the audience etc.…
Together with this, we also need to have strategies for content conversion funnel. Because out of all the visitors that visits your content, all are not going to emerge out from the funnels as your customers. As there are many leaks during process though the funnel. So we need to understand, analyse and strategize every step of the funnel so as to get the maximum output from the funnel.
A simplistic representation of the process inside the content conversion funnel on SaadKamal.com. Though in actual, content conversion funnels is not as simple as this. It demands careful understanding the prospects behaviour, analyse the pattern required in nurturing and retaining them and then implement the strategies. But however, for understanding the basics, let us have a look at it.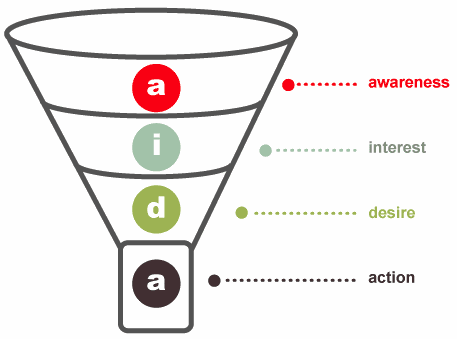 Source: SaadKamal.com
Let us see each process:
First step involves making your targeted audience aware about your business, products & services.
Second step involves creating an interest among the prospects about your business, products & services. (At this step, do expect the funnel getting smaller as all the prospects who are aware of your products will have interest).
Third step involves invoking a desire to buy your products & services. (Further expect leakage in your prospect numbers as they may not hold any desire to buy).
So at each level, it requires to introspect the strategies as there are leaks at each level of funnel –
What steps to take to make prospects more aware about the products & services?
How do we understand their perception and needs?
How to come up with an irresistible offer?
From coastdigital.co.uk, we can see how the prospects leaks….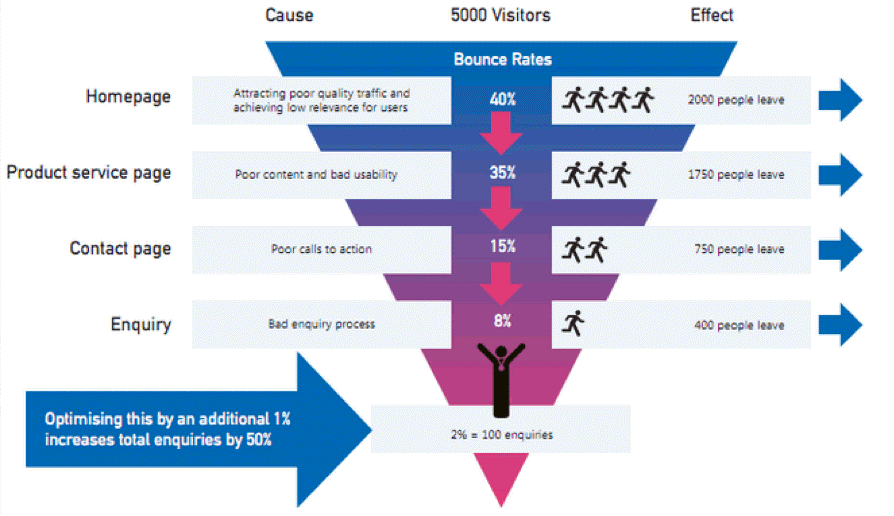 After understanding, a conversion funnels and the filters at each levels, we can develop our own simple content conversion funnel:
Awareness:
How to make people aware?
Advertisement – Did we advertise with effective punchline content?
How many clicks did we get?
Traffic from Organic Search – How much traffic are we getting?
Which piece of content is getting more traffic?
Social Media – Do people visit your social media pages or account?
Are we putting relevant content for the social media users?
Are we engaging with them?
Are we leading them to our website?
But before putting great deal of efforts in awareness it is crucial to know our audience is. We need to create a segment for the target. Then apply all the strategies for bringing in the awareness. Otherwise we may end with wrong segment and unnecessarily waste our all resources.
Interest:
After making our audience aware we need to create interest or curiosity in their minds about our products & services. Which can be mainly be brought by the Content & Website. So the design of the website should be product appropriate and appealing to the targeted segment of audience. Same with the content, it should be appealing, informative and prepared keeping in mind the prospects and not the competitors alone. Generally, many organisation does this mistake while creating a website, they create it to defeat a customer but instead of that focus should be on the customer like and dislikes and even perceptions. Website and Content should reflect the brand individuality and not the copy of some other brand. That creates impression and develops a trust.
Desire:
Once the prospect has shown interest in your products, escalate that interest to desire. Most of the customers prefers those products or services which brings solution to your problems. Hence project your brand as solution oriented. They are even curious and anxious about how much service support would they get suppose if they buy the products. Hence create a trust by convincing them about your service plans.
This all is done by autoresponder email system. It helps in taking the communication level up to relationship building. Hence it is important to frame good and relevant content for autoresponders showing the maturity of brand.
Action:
This is the most important step, where very few prospect reach. Understand them very carefully and critically and then present the final proposal. Mostly these prospects are the repeat customers or by the references.
Even though if no prospects turn up as your customers, this whole process is a learning process. At every stage, analysis should be done as to where did we shortfall? What were the prospects expectations? What are our areas of improvement? How can we put more efforts in marketing? What kind of marketing efforts are required? We get all these answer by developing such content conversion funnel and redevelop it in a better way. It is a continuous process till we get the desired results.